What

are Teeth Crowns?
If your tooth is badly broken or worn down, a crown replaces tooth structure and protects the remaining tooth.
Teeth crowns work by completely covering the affected tooth, while protecting the deep layers of the tooth structure. They are made of porcelain, gold or a combination of both. They aesthetically strengthen teeth which have been weakened or discoloured through the passage of time or earlier restorative procedures. To have a crown is a two stage process. At the first appointment the tooth is prepared, an impression taken and then sent to a ceramist who will handcraft the crown, (usually within 2 -3 weeks). In the meantime an acrylic temporary crown is placed to protect the tooth. Once the permanent crown is returned, we check it for a close fit, you check it for looks and when both parties are happy, we cement it permanently. Textbooks will quote a 15 year life span.
Teeth crowns are used for both restorative and cosmetic dental procedures. They can restore teeth that have been damaged, decayed or fractured, as well as make for an ideal smile makeover.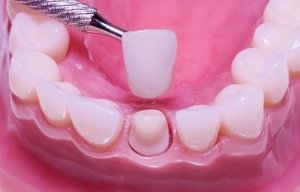 Grinding your teeth, an improper bite, age and tooth decay can all be contributing factors in the wearing down, cracking or breakage of your teeth. Dental crowns provide strength, durability, aesthetics and tooth stability. If you are suffering from one of the following conditions, a crown could be a suitable solution for you.
A previously filled tooth where there now exists more filling than tooth. This will cause the existing tooth structure to become weaker and no longer support the remaining filling.
Extensive damage by decay.
Discolorations and an aesthetic appearance you are unhappy with.
Hairline Fractures in your teeth.
Bridges – When missing teeth are replaced with a bridge, usually the adjacent teeth require crowns in order to support the replacement teeth.